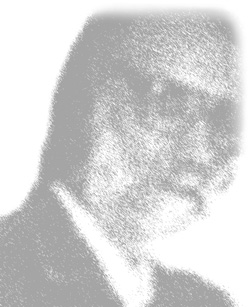 Born in Simcoe, Ontario in 1939, Paul Fournier studied a variety of art techniques at the Central Secondary School in Hamilton under local watercolourist Jean Wishart, then went on to study printmaking at McMaster University (1967), where he was invited as the guest of Professor George Wallace. In 1969-70, he was artist in residence at Waterloo Lutheran University. Since 1961, Fournier has exhibited extensively in both solo and group exhibitions in Canada, the US and Europe.
His works hang in the Art Gallery of Ontario, the National Gallery of Canada, Ottawa, the Art Gallery of Hamilton and the Hirshhorn Museum and Sculpture Garden, Washington, D.C., as well as in many university and private collections across Canada and the US.
In 1996, Fournier was awarded an Honorary Doctor of Laws from Sir Wilfred Laurier University in Waterloo, Ontario.
Fournier has lived in Toronto since 1962. Previously associated with the Pollock Gallery, the David Mirvish Gallery and the Klonaridis Gallery until its closing, Fournier is now represented by Miriam Shiell Fine Art in Toronto.
This latest collection of paintings by Paul Fournier represents the culmination of the artist's poetic vision over the last 20 years. These works reveal his remarkable talent not only as a colourist, but also as a draftsman with a keen intuitive sense of the beauty and wonder of the world around him. Drawing his primary inspiration from the phenomena of nature, he fills his canvasses with intoxicating colours and shapes that convey an almost childlike wonder of the universe. Images of imagined landscapes come alive upon the canvas - shapes taking form out of colour as if to suggest waterscapes, coastal scenes, coral reefs, exotic animals and lush tropical gardens.
Fournier's work is characterized by a dramatic colour dynamic: "I like dramatic things with sharp contrasts. They seem to represent the mystery of life and the forces that lie behind a thing - that energy there. I am drawn to mystery, but through my art, I like to explore and reveal it." Images appear to emerge from the colour, as if to suggest a form seen indistinctly through the mist. Fournier remembers sketching scenes of the Dundas Marsh at dawn, shrouded in mist. The young artist was entranced by the ephemeral forms that emerged before him. This image has remained an important one for Fournier over the years, and is the inspiration for such works as Emergence in Light Blue and Emergence #11 in Citron. When asked about his fascination for the "indistinct," Fournier playfully cites J. M. W. Turner: "You should tell him that indistinctness is my forte." - Turner's reply upon hearing that collector James Lenox had complained that the painting Fingal's Cave was "indistinct."
Underlying Fournier's work there exists a fine balance between spontaneity and intuition. The artist explains: "there is a beauty and a sense of rightness about things that happen immediately," yet behind the fluid lyricism lies an exacting precision. Fournier says that "paint is a wonderful substance" and, as an artist, he is able to transform this substance in order to take the elements of nature to a more poetic realm. Fournier's inspired artistry and talent no doubt place him amongst the most significant artists in Canadian art today.
Click here to view the exhibit online
OR